The Platte River Program
Overview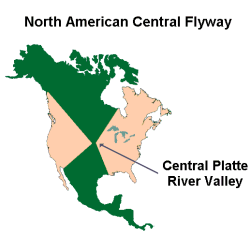 The riparian habitats and other wetlands and prairies within the watershed provide migratory and breeding habitat for numerous species of birds. The several million waterfowl that migrate annually through the valley use open sandbars and wet meadows each spring for food and roosting. Nine endangered species use the central Platte River Valley for habitat, including the whooping crane, least tern, and piping plover.
Over the last century, the structure of riparian habitats has responded to changes in the hydrology of the river to the extent that the sustainability of migratory and resident birds and other biota is in question. Developing successful strategies to sustain or manage the riparian ecosystem of the central Platte River requires a better understanding of the linkages between hydrology, river morphology, biological communities, and ecosystem processes.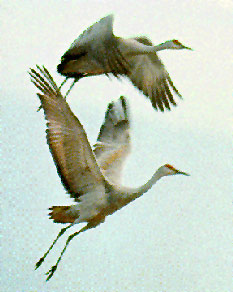 In 1995, a memorandum of agreement was signed by the Secretary of the Interior and the governors of the States of Colorado, Wyoming, and Nebraska to begin developing a basinwide habitat recovery program for the Platte River. This agreement was implemented by the Platte River Endangered Species Partnership (PRESP) beginning in 1997. Major aspects of the program call for the acquisition and restoration of habitat areas, design and implementation of water augmentation and conservation measures, and development of an overall monitoring and research plan to determine the effectiveness of an adaptive management plan. The U.S. Geological Survey (USGS) has joined in several of the committees and working groups of the PRESP to help develop a monitoring and research plan and provide study results. Such interaction with the PRESP helps to reduce duplication of effort and provide a management focus for the USGS studies.
STRATEGY: The USGS will contribute information about natural resources relevant to water users and managers of the central Platte River. The USGS Platte River Ecosystem Initiative will provide a core of work and develop partnerships to provide relevant information to stakeholders. This initiative will provide high-quality, impartial scientific information that can be used by various parties in assessing resource management issues.
INFORMATION NEEDS: Needs for scientific information on the central Platte River have been discussed and assigned priorities by managers and scientists. In response to the natural resources management community, the Ecosystem Initiative is planned as a multiyear effort that will bring interdisciplinary teams together.
TEAMWORK: The Platte River Ecosystem Initiative will depend greatly upon the interdisciplinary teams and partnerships to accomplish its goals.
The initiative will be led by an interdisciplinary team of USGS scientists. The Platte River Ecosystem Team will develop collaborative partnerships and opportunities to share information with stakeholders.
For information about the Platte River Priority Ecosystem Study, contact: