The Platte River Program—Managed Reach
Back to Cottonwood Ranch main page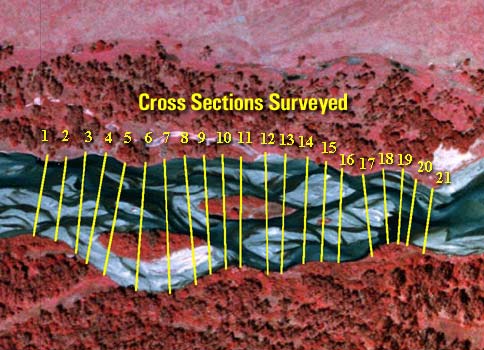 Other available topographic survey and bed sediment data: Input | Output
Index of Cross-Sectional Data
Cross sections numbered upstream to downstream and are resurveyed periodically. Text files for each cross section include distance from left pin (m) and elevation (m).
Index of Bed Sediment Data
Sampling stations are along the cross sections at equal intervals and are numbered from right bank. Text files for corresponding cross section or bank with sample station and sediment parameters.
Index of Bank Sediment Data
Sediment samples taken from top of bank to edge of water within each distinctive stratigraphic layer.
| Date of sampling | Location |
| --- | --- |
| 10/19/00 | |
| 10/24/01 | |
Disclaimer: Please note that some U.S. Geological Survey (USGS) information accessed through this page may be preliminary in nature and presented prior to final review and approval by the Director of the USGS. This information is provided with the understanding that it is not guaranteed to be correct or complete and conclusions drawn from such information are the sole responsibility of the user.
Any use of trade, product, or firm names in this publication is for descriptive purposes only and does not imply endorsement by the U.S. Government.
For information regarding the Cottonwood Ranch Project please contact:
Paul J Kinzel--pjkinzel@usgs.gov
Box 25046, Denver Federal Center
Denver, CO 80225-0046
phone: (303) 236-5001