The Platte River Program — A USGS Priority Ecosystems Program
The Platte River Program—General Monitoring
Back to Cottonwood Ranch main page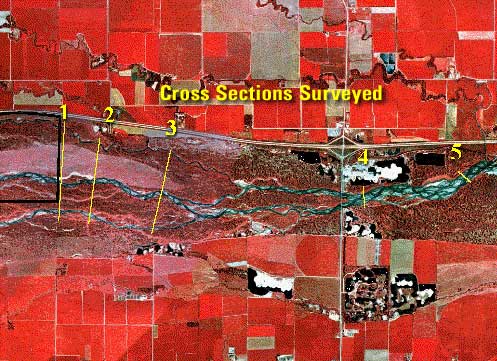 Index of Cross-Sectional Data
Cross sections numbered upstream to downstream and are resurveyed annually. Text files for each cross section include distance from left pin (m) and elevation (m).
Date of survey
Cross sections surveyed
5/08/01
1
2
3
4
5
7/17/02
1
2
3
4
5
Index of Bed Sediment Data
Sampling stations are along the cross sections at equal intervals and are numbered from right bank. Text files for corresponding cross section or bank with sample station and sediment parameters.
Date of sampling
Section number sampled
5/03/01
1
2
3
4
5
7/17/02
1
2
3
4
5
For information regarding the Cottonwood Ranch Project please contact:
Paul J Kinzel--pjkinzel@usgs.gov
Box 25046, Denver Federal Center
Denver, CO 80225-0046
phone: (303) 236-5001
---