High Plains Aquifer Water-Level Monitoring Study
Water-Level Data by Water Year (October 1 to September 30)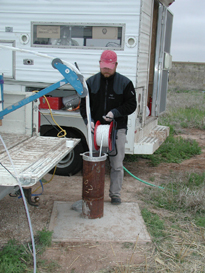 This web page provides files of water-level data used for the maps of water-level changes in the High Plains aquifer for the eight states that overly the aquifer. Only static water levels are used in the maps of water-level change. Static water levels generally are collected in winter or early spring, when irrigation wells typically are not pumping and water levels generally have recovered from pumping during the previous irrigation season. However, a fall water level is used if the fall measurement represents static conditions and it is the only available water level for the well. The data files are tab-delimited; you will need to unzip each downloaded file before you can use the data files.
2013
Data for all eight states || Colorado || Kansas || Nebraska || New Mexico || Oklahoma || South Dakota || Texas || Wyoming
2012
Data for all eight states || Colorado || Kansas || Nebraska || New Mexico || Oklahoma || South Dakota || Texas || Wyoming
2011
Data for all eight states || Colorado || Kansas || Nebraska || New Mexico || Oklahoma || South Dakota || Texas || Wyoming
2010
Data for all eight states || Colorado || Kansas || Nebraska || New Mexico || Oklahoma || South Dakota || Texas || Wyoming
2009
Data for all eight states || Colorado || Kansas || Nebraska || New Mexico || Oklahoma || South Dakota || Texas || Wyoming
2008
Data for all eight states || Colorado || Kansas || Nebraska || New Mexico || Oklahoma || South Dakota || Texas || Wyoming
2007
Data for all eight states || Colorado || Kansas || Nebraska || New Mexico || Oklahoma || South Dakota || Texas || Wyoming
2006
Data for all eight states || Colorado || Kansas || Nebraska || New Mexico || Oklahoma || South Dakota || Texas || Wyoming
2005
Data for all eight states || Colorado || Kansas || Nebraska || New Mexico || Oklahoma || South Dakota || Texas || Wyoming
2004
Data for all eight states || Colorado || Kansas || Nebraska || New Mexico || Oklahoma || South Dakota || Texas || Wyoming
2003
Data for all eight states || Colorado || Kansas || Nebraska || New Mexico || Oklahoma || South Dakota || Texas || Wyoming
2002
Data for all eight states || Colorado || Kansas || Nebraska || New Mexico || Oklahoma || South Dakota || Texas || Wyoming
2001
Data for all eight states || Colorado || Kansas || Nebraska || New Mexico || Oklahoma || South Dakota || Texas || Wyoming
2000
Data for all eight states || Colorado || Kansas || Nebraska || New Mexico || Oklahoma || South Dakota || Texas || Wyoming
1999
Data for all eight states || Colorado || Kansas || Nebraska || New Mexico || Oklahoma || South Dakota || Texas || Wyoming
1998
Data for all eight states || Colorado || Kansas || Nebraska || New Mexico || Oklahoma || South Dakota || Texas || Wyoming
1997
Data for all eight states || Colorado || Kansas || Nebraska || New Mexico || Oklahoma || South Dakota || Texas || Wyoming
1996
Data for all eight states || Colorado || Kansas || Nebraska || New Mexico || Oklahoma || South Dakota || Texas || Wyoming
1995
Data for all eight states || Colorado || Kansas || Nebraska || New Mexico || Oklahoma || South Dakota || Texas || Wyoming
1980 (The measurement month and year is not available for the 1980 water levels.)
Data for all eight states || Colorado || Kansas || Nebraska || New Mexico || Oklahoma || South Dakota || Texas || Wyoming
Predevelopment (A static water-level measurements from 1930s to 1980s for each well, if available; for each well, this water-level measurement was made prior to substantial groundwater development in the well area.)
Data for all eight states || Colorado || Kansas || Nebraska || New Mexico || Oklahoma || South Dakota || Texas || Wyoming